ICYMI, eCommerce sales are booming (and they're only expected to keep growing). If you're going to take your fair share of the profit, you have to earn it. At Pattern, we're experts at helping brands increase their margins and profits without sacrificing quality products and consumer trust in the process. In fact, our partners' revenue grows by an average of 40% in their first year with us.
Here are five things you can do to increase your margins for online sales without cutting corners or spending oodles of money:
1. Drive more traffic to your products
2. Utilize premium content
3. Optimize for Amazon SEO
4. Scale to international marketplaces
5. Control dynamic pricing
1. Drive more traffic to your products
This first one may seem obvious. If you're going to increase your sales, you need more people seeing your products. Using advertising and Amazon marketing services to your advantage can help you quickly see a rise in visitors and, ultimately, conversions.
Create an advertising strategy.
Without a solid advertising strategy, buying ads on Google, Facebook, or Amazon is basically just throwing cash to the wind and hoping for the best. 
Either on your own or with a partner like Pattern, identify what customer segments are important and what their behaviors are. 
Then create great targeted product pages that are persuasive, concise, and interesting to the consumer. The more information you have about your consumers' behavior in your arsenal, the better. If consumers feel like you know and understand them, they're more likely to stick around and end up purchasing your product.
Let data change and improve your strategy over time.
Next, use A/B testing to see which ads are working well and which aren't. The key here is to never settle and realize there's always room to grow. Maybe your customer segment could be more dialed in. Maybe one image works better than another. Test, test, test and then let the data inform your strategy over time!
At Pattern, our advertising team uses our proprietary technology Predict to automatically adjust hundreds of thousands of keyword bids to ensure we're putting money behind keywords that get our partners the highest returns. We're able to test which words perform best and then optimize advertising strategies (and bids) from there.
Track your success.
Finally, make sure you have a measuring system in place to ensure you can track each advertising campaign. That way, you'll be even more prepared as you head into the next one.
Learn more about Amazon Sponsored Products, Sponsored Brads, Display Ads, and more on this post about Amazon AMS.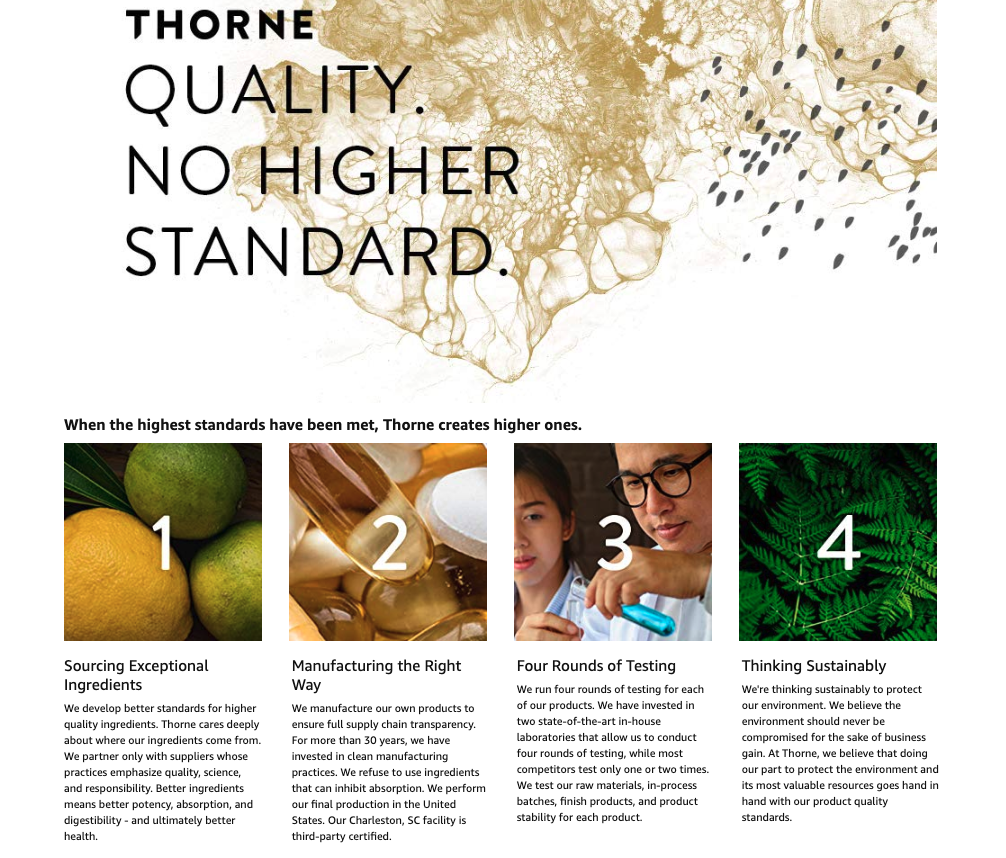 2. Utilize premium content
Customers are more likely to purchase products that look legitimate. After all, if one product costs 30 cents and another costs $3, but the images and product descriptions are terrible on the cheap one, consumers are much more likely to choose the latter. 
"Premium content is a big way to improve profits," said Kevin Lamb, Pattern's Marketplace Insights Specialist. "You have to look way better than the average listing or you're not going to sell."
Use on-site content optimization options.
Most eCommerce sites offer options to improve content offerings. 
For example, Walmart gives each page a content score that guides retailers to make their product pages more effective. They even offer content audits to help retailers sell and show up more on their site.
Amazon's version is called Enhanced Brand Content (EBC). EBC helps brands create individualized product pages that increase conversion rates and raise profit margins. By using EBC, you can add extra content to your Amazon product page, make it more mobile friendly, and ultimately keep more customers on your page for longer.
3. Optimize for Amazon SEO
If you're going to increase your margins, you have to show up on page 1 of Amazon. (Very few customers look beyond the first product page.) 
Know that Amazon SEO is different than Google.
Not all search engines are created equal. Amazon uses the A9 ranking algorithm to decide who shows up first on their product pages, and it's not at all the same as Google. 
We recommend putting someone on your team (or partnering with someone) who knows the A9 algorithm and all its nuances inside and out. Otherwise, your SEO optimization isn't going to take you very far.
Get the basics down.
Pattern's SEO experts recommend optimizing your product titles, backend search terms, and product descriptions first to include keywords related to your product. However, there's so much more you can do with Amazon SEO. 
Learn more about how to get started with Amazon SEO here.
4. Scale to international marketplaces
Finally, a key part of increasing your margins on eCommerce is increasing your audience size. If you're only selling on Amazon or eBay or Walmart, you're missing out on huge international markets like China, Europe, and beyond.
Analyze whether or not you're ready to go international.
It's true, not everyone is ready to sell on marketplaces like Tmall or Alibaba yet. However, you might be more ready than you think. Pattern's international eCommerce experts can tell you whether your product is ready to enter new markets. 
5. Control dynamic pricing
.Fighting for control over your product pricing may be the most important factor in creating (and maintaining) a high profit margin eCommerce strategy. 
Since sellers on Amazon and other marketplaces are constantly in competition, price erosion can often affect brands and cut deeply into their margins as each seller tries to win the Buy Box.
Create a MAP policy.
A Minimum Advertised Price (MAP) policy can help you create fixed price points for your products among your many sellers. By requiring your sellers to advertise at exactly how much your products are worth, you can save yourself many headaches (and shrinking margins) in the future. 
Our partner brands' legal counsel helps Pattern partners create MAP policies that are thorough and binding.
Enforce your MAP policy.
Sellers aren't that great at maintaining price parity. However, if you have a MAP policy in place you won't be left helpless when the inevitable price dropping war ensues. If unauthorized sellers are disrupting your MAP policy, you can work to get them removed, thereby saving your margin. 
We know these four strategies will be helpful for you as you try to improve your eCommerce margins. Learn more about how Pattern can grow your profit margins by reaching out below.
More Resources
Fighting Back Against Dynamic Pricing
The Experts' Guide to Amazon Advertising Strategy
Implementing a Successful Plan for Marketplace Control
Increase Amazon Conversions via Effective Content & Storytelling