It's official. Amazon is trying out another Amazonian social media copycat platform to sell products. Amazon's recently announced beta feature for Vendors called Posts looks eerily similar to Spark, Amazon's first (and admittedly feeble) attempt at meshing social media with eCommerce.
Pattern's eCommerce experts took a look at Posts to give you the rundown on what Posts is and what pros and cons Amazon Vendors should consider when integrating the beta.
What is Posts?
According to Amazon's Posts page, "Posts is a new browse and discovery experience on Amazon focused on brand-shopping." Posts are located on brand's own detail pages, the detail pages of related brands, related posts feeds, and category-based feeds.
Screenshot from Amazon
The new mobile feature enables shoppers to browse products from feeds of brand-curated images and content that link to product detail pages, making them instantly available for purchase. Posts are included within different category tags that help shoppers explore more posts (i.e. products) in similar categories.
To put it simply, think of Posts as a mesh between an Instagram feed and Related Content carousels.
Pros of Posts
Gather additional consumer data (for free!)
Posts allows brands to gather consumer metrics on things like views, clicks, and click-through rates, and it's currently available for free to Vendors in the U.S. who have a Store.
Stand out from the competition (and show up on competitor's products!)
Similar to A+ Content (and the former Enhanced Brand Content), Posts is another way leading brands can differentiate themselves from their competition. Plus, Posts can show up on related brands content feeds. For example, Pattern's partner Yogi Tea started using Posts last week and has already shown up on some competitor's feeds.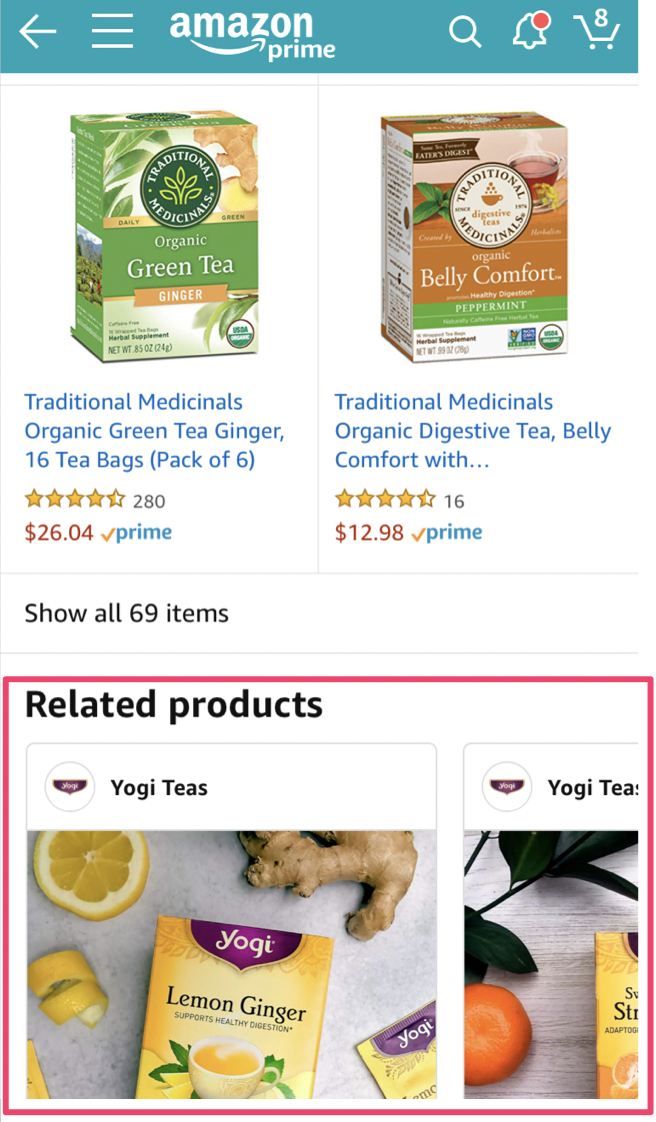 Repurpose social media content
Most leading brands are already using brand-focused content on their social media platforms anyway. Using Posts might be a no-brainer for brands who already have a plethora of content on their hands that they can easily repurpose to sell products and draw customers in.
For example, Yogi has already started repurposing some of their social media content to use in their Posts feed.
Tell a brand story
Using Posts well might help brands engage their customers for longer, which means they have more time (and space) to tell their brand narrative to the consumer. If used effectively, brands could increase their customer retention rates and convert one-off shoppers into loyal consumers.
Cons of Posts
Will customers actually use it?
This was the big question surrounding Amazon Spark that ultimately proved to be a resounding no. (Amazon shut down Spark earlier this year.) Obviously, Amazon has learned a few things from the past—one being that Posts relies on brands to drive content rather than relying on those unpredictable consumers whom we love so, so dearly. However, only time will tell whether or not customers will actually interact with it.
Posts could also lead customers to competitors
Since the Posts feed is configured by categories, Posts could lead customers directly to your competitors and their products rather than pointing customers toward more of your product content instead. This already happens with Related Content, but it does create a larger disparity between brands who have great content and those who don't—if your competitor's Posts feed looks better than yours, good luck selling more than them. 
It takes time you don't have
Unfortunately, many eCommerce teams are spread thin as it is. Adding in an additional feature to curate content for and manage on your product listings might seem impossible to some. However, partnering with Pattern can expand your team's eCom bandwidth to try out new Amazon features like this. 
As a Pattern partner, you'll always be the first to know about new Amazon offerings. Send us your information below to see what a Pattern partnership could do for your eCommerce business.
More Resources
Increase Amazon Conversions via Effective Content & Storytelling
Going Beyond Amazon: How to Break into Other Ecommerce Marketplaces
Navigating a Successful 3P Presence on Amazon & Beyond
Amazon MPS Benchmark: Hiking Shoe Brands 2021