On Friday, May 3rd, Silicon Slopes hosted Pattern Co-founders David Wright (CEO) and Melanie Alder (CIO) as featured guests for their entrepreneur spotlight breakfast event. The event consisted of moderated questions from the Director of Operations at Silicon Slopes, Garrett Clark, along with some final Q&A from attendees.
Dave and Mel (as they are affectionately referred to by their employees) shared everything from Pattern's humble beginnings in Melanie's living room to its rise as the premier partner for global commerce with more than a dozen offices worldwide.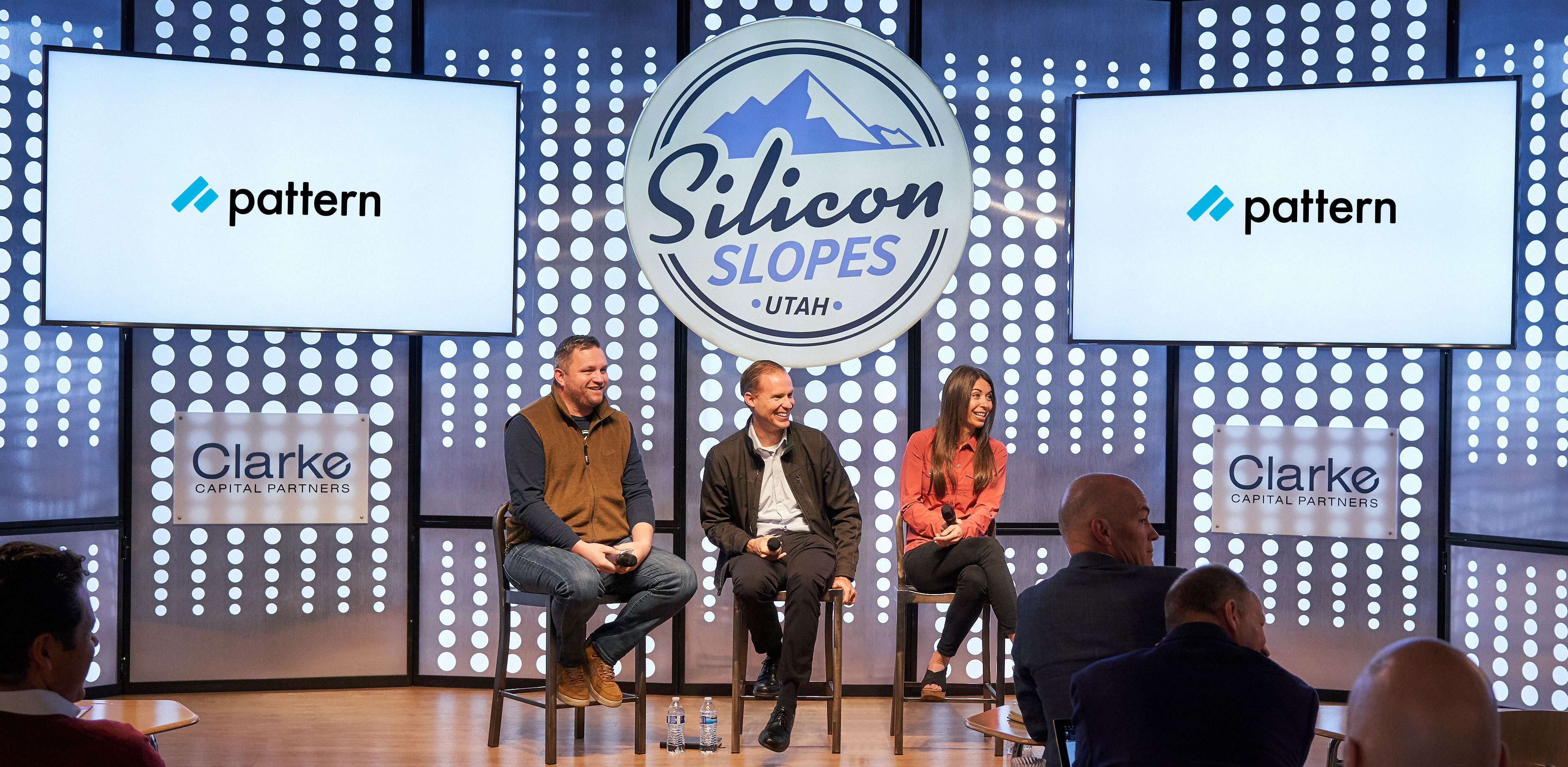 Humble beginnings and humble founders
At first blush, Dave Wright and Melanie Alder come off as unlikely entrepreneurs. They don't exude the stereotypical tech founder vibe. There's no braggadocio. No flash. No swagger. But their soft-spoken, self-effacing style belies their success in building Utah's fastest-growing 9-figure private company. —all while cultivating a successful marriage and a blended family of 10 kids.
How Dave and Melanie started Pattern—and just how far they've come—is nothing short of unstoppable. But first, a bit of perspective: Last year, Amazon's online marketplaces generated just shy of $123 billion in revenue—with more than half of the units sold coming from its four million third-party sellers. Pattern sits near the top of that uber-competitive list of sellers revenue-wise. It is the #1 third-party seller of Health and Personal Care items on Amazon and among the top 5 third-party sellers overall. Today, Pattern represents brands such as TUMI, Nestle, Clorox, Panasonic, Sylvania, Skullcandy, and more than 50 others.
Not bad for a couple who spent the first several years of their company's existence shipping packages out of Melanie's living room. Despite generating four years of revenue growth exceeding 300%, the company has experienced harrowingly close calls. Pattern has thrived thanks to Dave and Mel's relentless obsession on delighting its partners—no matter the cost.
Hiring "A" players
During the event, Dave discussed how Pattern's six-year overnight success story was built on the backs of phenomenal teams. The primary human capital strategy has been two-fold:
- Find "A" Players with a demonstrated academic and professional track record
- Hire for cultural fit—look for employees who are obsessed with partners, have a bias for action, are fanatical about data and numbers, and are winners at heart
Industry challenges and competitive landscape
More than 3,000 third-party sellers join Amazon every day. Pattern started as one of those lowly sellers with Dave working a separate full-time job, Melanie hunting for products to sell, and both founders refusing to take a paycheck for nearly three years. Despite facing steep marketplace regulations, stiff competition, and sobering cash flow constraints, failure was never an option for them. Their focus has always been on the partners— including buying their inventory, subsidizing their advertising, and refusing to break their pricing policies. Risks were addressed by focusing on attracting the right partners, keeping them happy, and growing them profitably.
Community philosophy
The Pattern community is an amalgamation of its partner community (which includes more than 50 global brands), its employee community (which spans 12 global offices), and its marketplace community (representing millions of customers buying the products it sells). To date, Dave and Mel's primary focus has been creating value for its partners. Pattern partners experience on average nearly 60% revenue growth during their first year with Pattern and attain, on average, 93% brand compliance—meaning that 93% of sales are going through authorized sellers and being sold at the brand's minimum advertised price (MAP).
Innovation and future plans
Pattern is regularly approached by eager investors—many of whom are ultimately turned off by its business model of buying inventory from partners, building out distribution and fulfillment capabilities and generally doing hard, unattractive stuff.
Make no mistake, Pattern is a tech company—with proprietary software that tracks pricing, handles forecasting, manages reviews, reverse-engineers SEO algorithms and much, much more. Pattern's newest software is an automated advertising technology that identifies arbitrage opportunities, pricing inefficiencies, and emerging trends using mathematical formulas that predict marketplace movements and automatically execute dynamic bids across thousands of keywords and advertising campaigns—millions of times each day.
But all Pattern software was developed in service of better managing its own business—the business of accelerating partner growth on eCommerce platforms. A major lesson that Dave and Mel learned early on (from Jeff Bezos, ironically), is that unstoppable entrepreneurs aren't always looking for the highest multiples or the fastest exits or the most straightforward business models. They're just trying to delight their customers. And what's more unstoppable than that?
Thanks to everyone who came to the event. If you'd like to learn more about Pattern, fill out the form below.
More Resources
Top Challenges & Trends for Navigating Amazon & Other Marketplaces
20 No-Brainer Tactics For Growing Amazon Sales in 2021
Amazon MPS Benchmark: Hiking Shoe Brands 2021
Accelerate Your Marketplace Presence—Mercado Libre