In our previous post, we covered the top reasons Why You Should be Selling on Google Shopping and how it can help you grow your business. In this post, you'll learn exactly how to get started with Google Shopping, so you can use it successfully.
Here's how you can set up Google Shopping:
Open a Google Merchant Center
Merchant Center is a tool that helps you upload your store, brand and product data and make it available to shopping ads and other Google services. To advertise your products on Google, you'll need a Merchant Center account. To get set up, head to www.google.com/merchants and follow the steps.
Once you have created a Google Merchant Center account the next step will be to update your business information. Under 'Business Information' on the left hand navigation in your Google Merchant Center you'll see links for:
- About your business link where you can enter you business address and customer support information
- Website link with options for you to verify ownership and claim your website using Google Analytics, an HTML file upload, an HTML tag, or a Google Tag Manager
- Branding link where you can upload logos for shopping ads and shopping actions
Next, link your AdWords account to your Google Merchant Center so you'll be able to run campaigns. You can do this by clicking on the three vertical dots at the top right of Merchant Center.

Select 'Account Linking,' from the popup and you'll create or link your:
- Google Ads Account to create shopping campaigns and advertise your products
- Connect or create your display & video 360 account to create product-level dynamic remarketing creatives
- Connect or create your Google My Business account to use with local inventory ads or Google Shopping
##
Create your product feed
Now you can create your product feed so your ad can be matched to the different search queries. The requirements for your feed will vary depending on the types of products you're selling. But there are a few requirements for every feed:
- Condition (use, new, or refurbished)
- Tax (if not in the U.S)
- Shipping Cost
- Price
- Adult (whether it's an adults-only product)
- Availability
- Image Link
- Price
- Link (to the exact detail page on your site)
- Product Description
- Product Title
- Unique ID for each product
- Size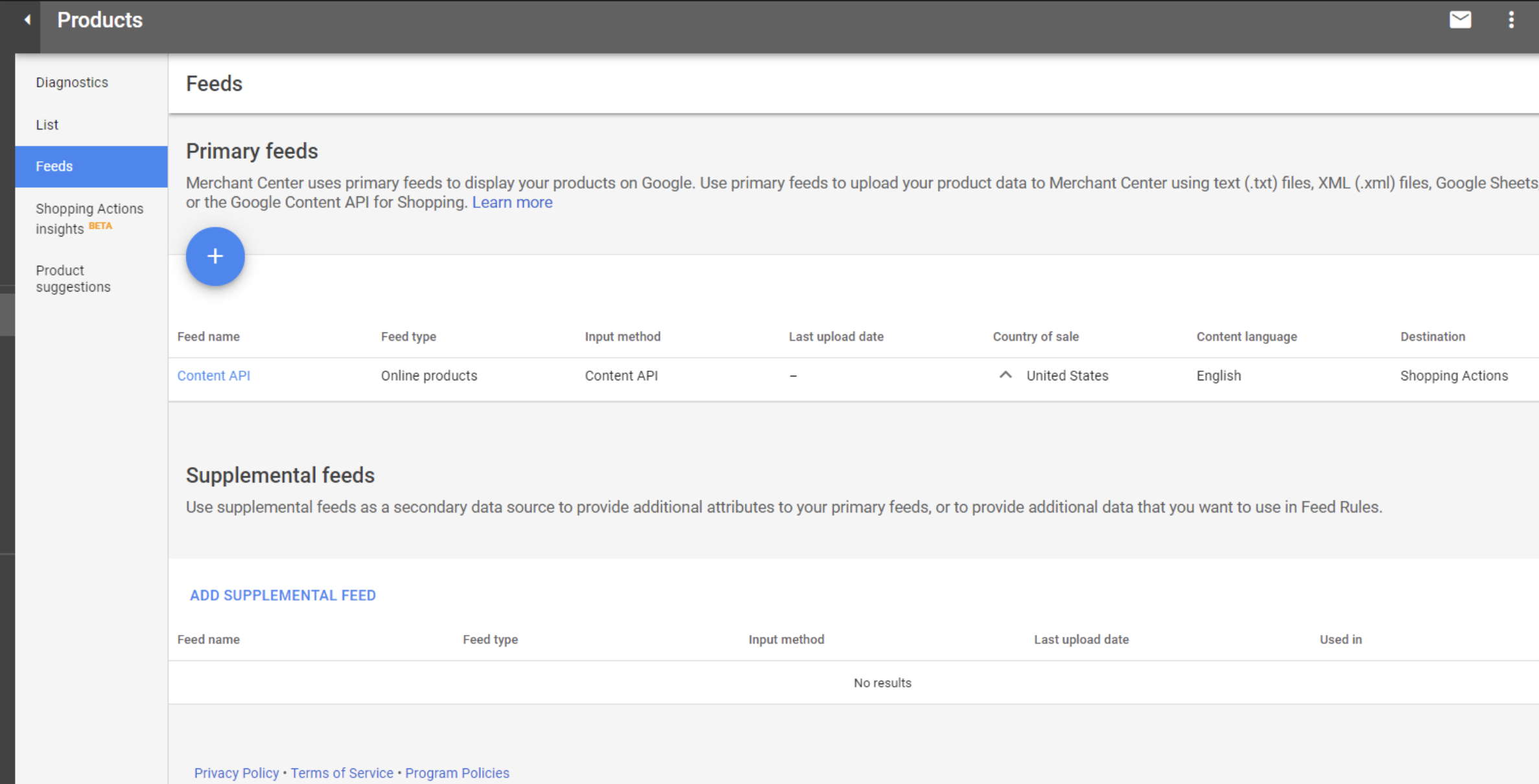 Create your first campaign
Now you're ready to create your first campaign. You'll do this by naming the campaign, selecting the priority and countries you want the campaign to be active in. Google will choose when your listing will be shown based on your bid and priority settings.
Next, select your product feed. You can limit your lists based on a number of different factors, including products already getting lots of traffic, entry products, those with low competition, and more.
Optimize your feed
You should be continually working to ensure your product feed is as relevant as possible. This means tweaking your product titles, using the right title structures, and using search query data to increase your conversion rate.
It's also a good idea to use negative keywords, so you can prevent your products from being displayed to the wrong audience.
Here are some practical guides and trend reports to help you on your way: https://www.google.com/retail/resources/
Setting up Google Shopping can be complicated, and continually optimizing your products can be time-consuming. If you need some help or have questions get in touch with us today!
More Resources
Top Challenges & Trends for Navigating Amazon & Other Marketplaces
Creating Marketplace Content that Converts
Amazon MPS Benchmark: Hiking Shoe Brands 2021
Accelerate Your Marketplace Presence—Mercado Libre