Curating positive ratings and reviews on your Amazon listing is one of the easiest ways to increase consumer trust, brand equity, and sales. That's why Pattern's Amazon experts decided to find out what happens to sales, conversion, and overall sessions when you increase your Amazon star rating from an average rating (3.5) to a good rating (4.5). 
We analyzed all the star ratings across our products to find out how changes in star rating affect other key metrics on the Amazon marketplace. Let's dig in to our findings, how Amazon's recent rating and review structure change has already forever changed the Amazon rating landscape, and a few strategies for how you can increase your star rating.
Findings: Star rating increases on Amazon upped conversion, sales, and sessions
Conversion rate increases by nearly 10% between average and good star ratings.
Our study found that the average conversion rate for Amazon products with 3.0–3.9 stars is 41%. However, the average conversion rate for products with 4.0–5.0 stars is 50%—nearly 10% higher. Even controlling for different variables like Buy Box and price, we found that rating impact on conversion rate remained both positive (between 17% and 47%), and statistically significant.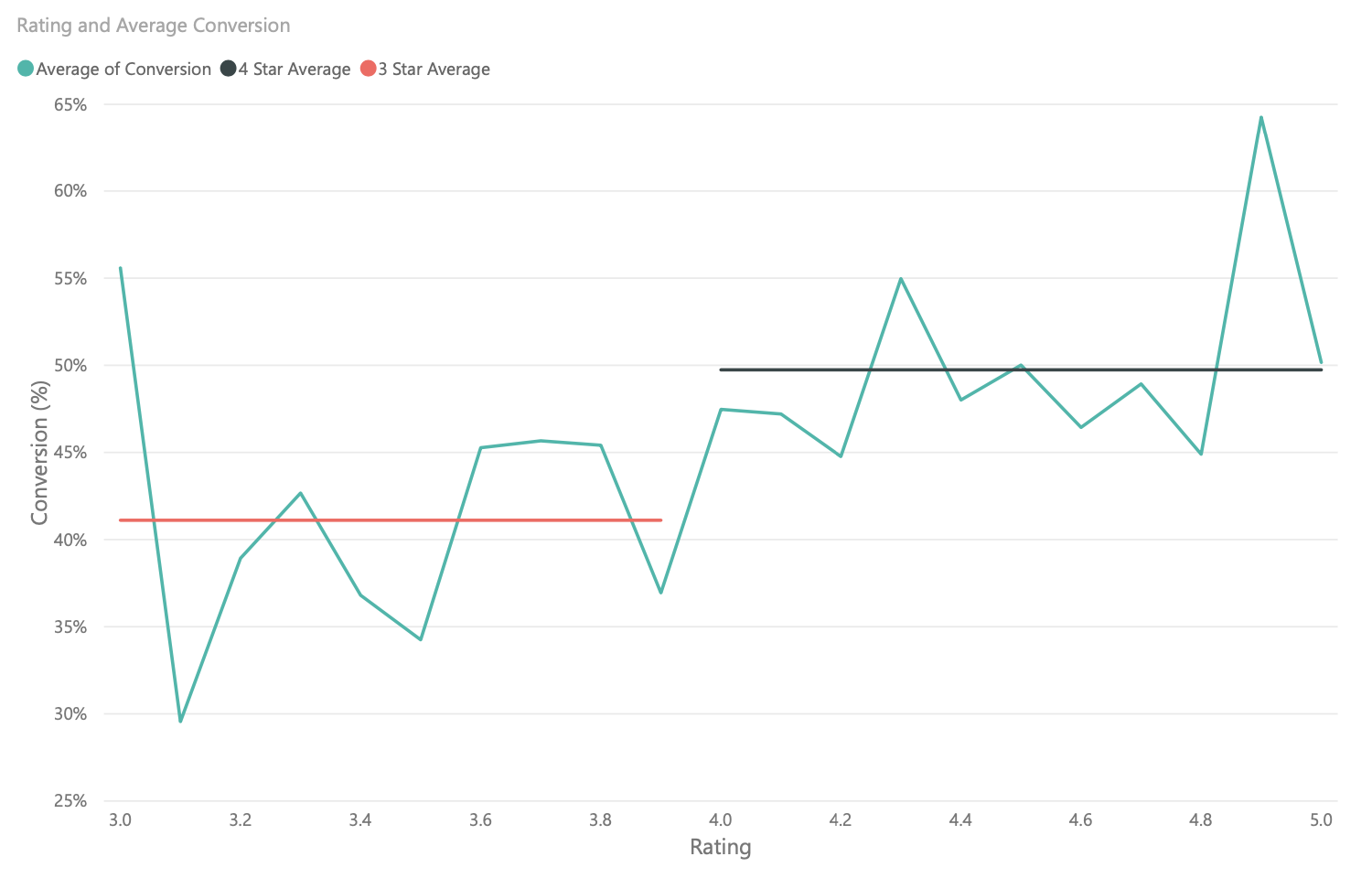 Then, controlling for Buy Box, price, and reviews, we found that a 1 star increase correlated to a 26% increase in conversion rate. Clearly, 1 star can make a big difference. Even the smaller increases had an impact—an increase from 3.8 to 3.9 stars is comparable to a 2.6% increase in conversion rate.
Sessions increased by 40% with a 1-star increase from 3.5 to 4.5.
Again, across multiple regressions, we found that rating impact on sessions remained both positive (between 51% and 39%) and statistically significant. For example, when controlling for Buy Box, price, and reviews, a 1 star increase correlated with a 40% increase in sessions overall. Just like with conversion, even incremental star rating increases had a measurable effect: an increase from 3.8 to 3.9 stars is comparable to a 4% increase in sessions.
How does star rating affect sales?
So how does all this equate to hard cash? Every brand will be different, but we found that if one of our brands increased four of their products with 3.9 stars to 4.0 stars, their weekly sales could increase by $18,000, and their yearly Amazon sales by $950,000. 
Yep, a .1 star rating increase crossing the threshold of 3-something star ratings to 4-star ratings amounted to nearly a million dollars. Every brand stands to gain from increasing their star rating, it may be by a million a year or just thousands, but that's still cash you could have if you made the effort to gather more positive reviews on your products.
Amazon rating and review structure change
Last year, Amazon changed its review structure to allow customers to leave a star rating on a product without having to write out an actual product review as well. The change seems to counterbalance the fact that, before the change, customers were more likely to leave a negative review than a positive one. 
However, as Marketplace Pulse notes, it's not doing anything to help with fake product reviews on Amazon. If anything, it's making Amazon's fake review problem worse as customers can't inherently tell whether simple star ratings are trustworthy or not. 
The change has had two visible impacts: customers are leaving more reviews, and, on the whole, more positive reviews. Since the change began around 4 months ago, various brands like AirPods and Hanes have seen a drastic increase in the amount of ratings received, which have in turn increased their star rating from anywhere between .1 to .3 stars. 
This is significant because, as we've already discussed, even a .1 star rating increase can represent millions of dollars in yearly sales on Amazon. Plus, Amazon has become customers' go-to when checking product reviews. 
Feedvisor reports that over three-fourths (79%) go to Amazon to check reviews, a third (32%) go to a search engine like Google, and 25% go directly to a retailer website. Only time will tell whether or not this change will continue to help brand's with good product offerings increase their star rating, and how Amazon will manage fake ratings going forward. 
How do you increase your review rating?
As we've seen, getting your Amazon star rating from average to good is important. So how do you get that star rating up? Here are a few simple strategies for increasing your star rating on Amazon.
1. Always respond to negative reviews (usually 3-star reviews or below).
Responding to poor customer feedback actually increases purchase intent. Brand responses improve product sentiment among potential buyers because they can see that the seller is active and cares about the customer journey. For example, shoppers who saw brand responses to negative reviews were 186% more likely to purchase than those who didn't.
2. Provide genuine relation-building responses
Don't just copy and paste a corporate response. People can tell the difference. Lengthier, more detailed, and more balanced customer feedback is considered the most helpful. If you messed up, own it and try to do better next time. Don't try and blame the customer. The customer is always right!
3. Include a CTA in your response.
Remember: Reviews often contain calls to action and opportunities to respond. If you leave an option for disgruntled customers to receive a return and support on your end, they're much more likely to come back (and other potential customers reading your response are more likely to shop there). 
However, be careful not to ask too much more of your dissatisfied customer—if you ask them to take too many additional steps they're more likely to be unsatisfied with the overall experience.
Want to get an analysis of how a star rating increase on your Amazon listings could impact your sales? Contact a Pattern representative through the form below or call us at 1-888-881-7576 and mention this blog post.
More Resources
Creating Marketplace Content That Converts
Increase Amazon Conversions via Effective Content & Storytelling