Amazon's Price Parity S-4 Seller Term has changed. This means that sellers can list lower on other marketplace sites or DTC sites than they do on Amazon and not be punished with ASIN suppressions or account suspensions.
Below screenshot of the old verbiage where Amazon required sellers to offer their products in price parity to their listings on other retailers. That clause is now removed.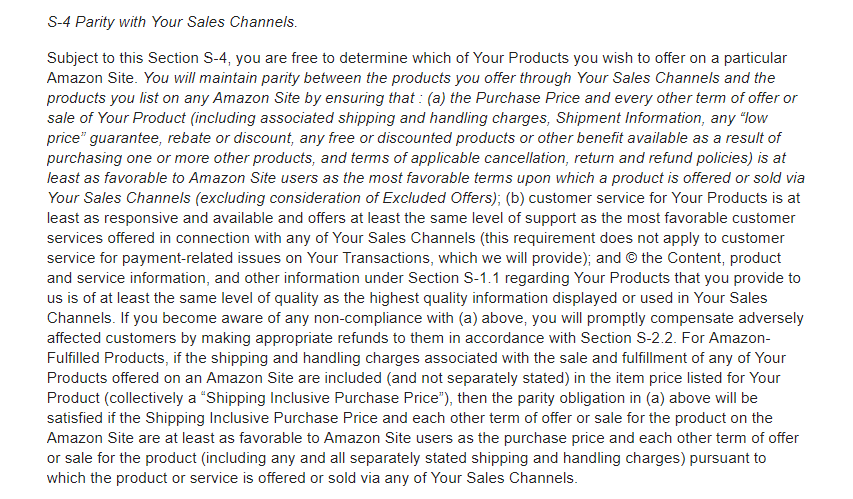 Key questions regarding the change include the following:
Is Amazon still going to price match?
Yes. This policy only affects third-party sellers and their decision of whether or not to keep pricing consistent between Amazon and other selling platforms.
Is Amazon still going to suppress Buy Box for non-competitive products?
Yes. Although the S-4 clause has been eliminated, this does not seem to affect Amazon's algorithm for Buy Box suppression. That algorithm compares current Amazon pricing to other marketplaces, which is indifferent to individual sellers. Therefore, the suppression will take place regardless of whether or not the lower price is being offered by a specific Amazon seller.
Is Amazon expecting sellers to offer their products at the lowest price on Amazon vs. eBay, Google, Walmart or other channels?
No. Amazon will no longer monitor sellers' other selling channels to enforce the lowest pricing on the Amazon platform.
Below is the policy as it currently stands. Or you can check out the full language HERE.
Never miss another important update to Amazon. Pattern's Amazon experts can keep you in the loop on the most recent changes to Vendor Central or Seller Central.
For more information about how Pattern can help grow your ecommerce business, fill out the form below to get in touch.