Most likely, you didn't know that Amazon has a social media platform called Spark. And you'd be in good company. With Facebook, Instagram, YouTube, Twitter and a number of other huge platforms, it can be super difficult to compete in this space, even if you're Amazon.
What is Spark?
Amazon describes Spark as "a feed of stories and photos from Amazon customers featuring products ready for purchase." They encourage Spark users to post pictures, products, stories, etc. and gives them the ability to tag products in the process. Readers can then add hearts to the products they like, smiles to the posts they like, participate in polls, and comment on posts.
Anyone can browse the Spark feed and read Spark posts. However, to post and engage with Spark you must be an Amazon Prime subscriber. From its beginning in 2017 Spark was only available on the Amazon Shopping mobile app. However, last month we discovered this new banner at the top of Amazon's home page, just above the search bar, that will bring you to the new desktop version of Spark.
Spark has been up and running for over a year now. What are the strengths and weaknesses of the platform, and how widely is it being used?
What have critics said about Spark?
Most of the reviews of the Spark platform have been negative and boil down to two major issues:
1. "Prime members only" limits users
As one writer asked, why would you limit the potential users of your social media platform? "Currently, Spark is only open to Prime members, of which there are an estimated 90 million in the USA. Amazon hasn't exactly made a big push to get those members joining Spark at this stage, in fact, many probably aren't even aware that the platform exists." In terms of awareness of the platform's existence, we can only guess as to why Amazon doesn't advertise it more openly. The new banner on the home page doesn't even include the title "Spark" anywhere on it.
2. Mobile only (formerly)
While this is no longer the case, in the past the Spark platform was hidden away under the "See all programs" menu in the Amazon Shopping mobile app. This certainly stifled the growth of the platform from its inception. However, after repeated use it would begin to show up on your sidebar menu for easier access. Additionally, after using Spark for a few days, Spark content, such as polls, started appearing as part of my home page on the mobile app.
What are the best ways to engage Spark users?
Spark allows you to make a few different types of posts:
Photo: Photos allow you to share any type of photo and lets you tag products that may be in our image.
Link: Allows you to share a URL of your choice. URLs linking to other offsite stores are prohibited. Many users use this to share their idea lists.
Poll: Create a poll between two items for other Spark users to vote on.
Product: Link to an Amazon product page
Question: Ask the community a question in big bold print.
We decided to investigate which types of posts got the most engagements and views from other spark users: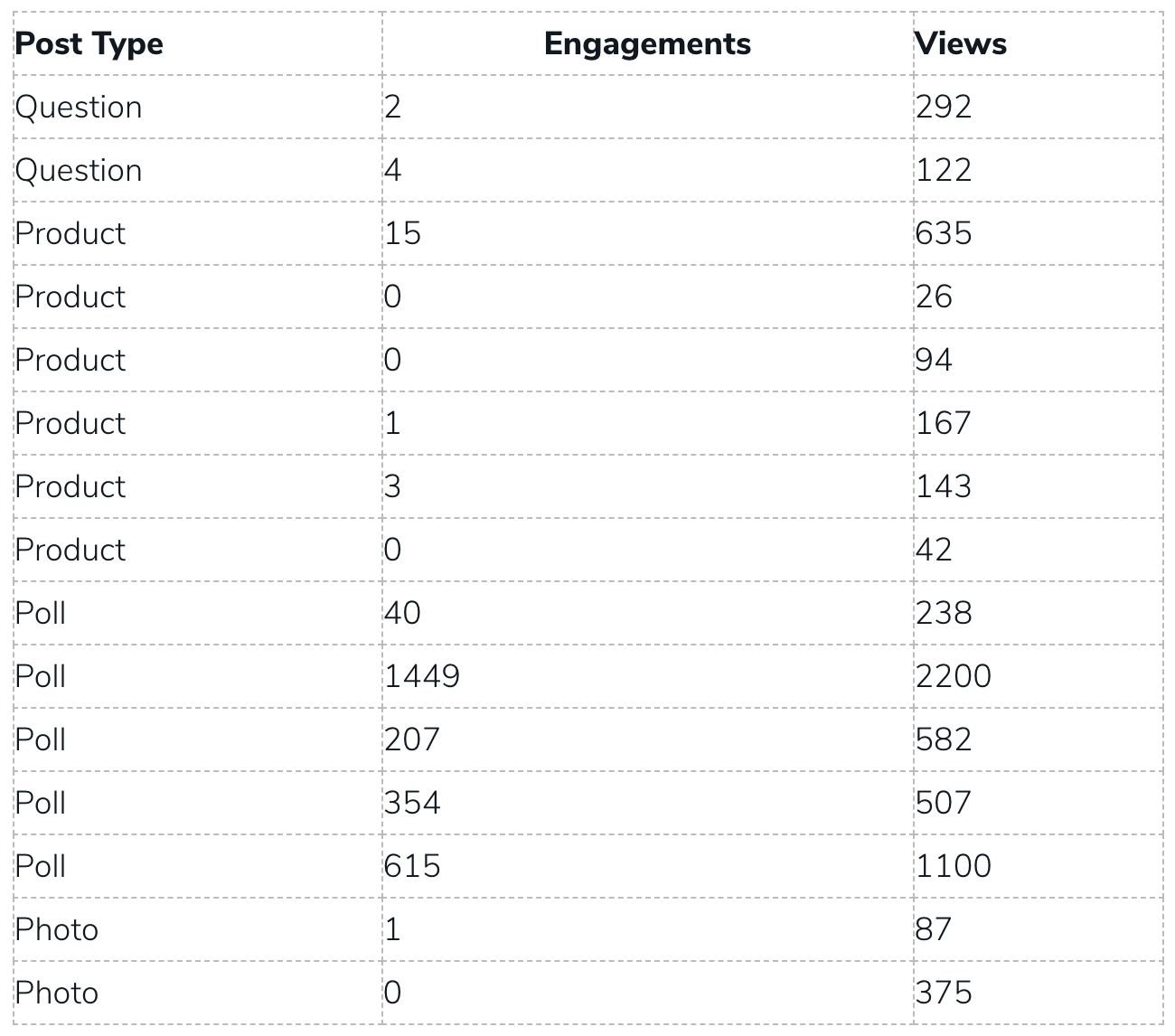 The results from our experiment show that polls are overwhelmingly the best way to get engagement from Spark users. Products and Photos (with tagged products) tend to be the second best way to get views on your posts, after polls. See the gallery at the end of the article to see the posts from our experiment.
Influencers and onsite associates
While brands still do not have their own presence on Spark, Influencers and Onsite associates do. In October 2017, an article appeared titled "Confessions of an Amazon Spark influencer: 'There's really no return on investment'" where the author listed out a number of reasons influencers were not being attracted to the platform. However, the platform has grown since the article was published and many improvements have been made. There may yet be a possibility for Spark to attract influencers, onsite associates, and brands.
It seems that, with recent changes as evidence, Amazon still intends to improve and expand the capabilities of Spark.
Below are the posts that we did during this experiment. Check them out to get some ideas and try out Spark for yourself. Comment below and tell us about your experience.
Want more information? Contact Pattern.