Consumers are discount loving creatures—we'll go out of our way to snatch up a great sale item or save a few dollars on our online purchases. That's what makes special offers and promotions such a vital way for merchants to increase their sales, especially on Amazon. 
In addition to markdowns, one great way you can maximize your sales on your Amazon store and attract more customers is by using Amazon Coupons. They not only save your customer a few dollars, but, when used effectively, they can help improve your store's rankings across the site.
What are Amazon Coupons?
Similar to the newspaper coupons you got in the mail growing up, Amazon Coupons are a way for customers to save money on products. When enabled on a product, Amazon Coupons appear as a button under the listing price of that product. Customers can redeem a coupon simply by clicking it.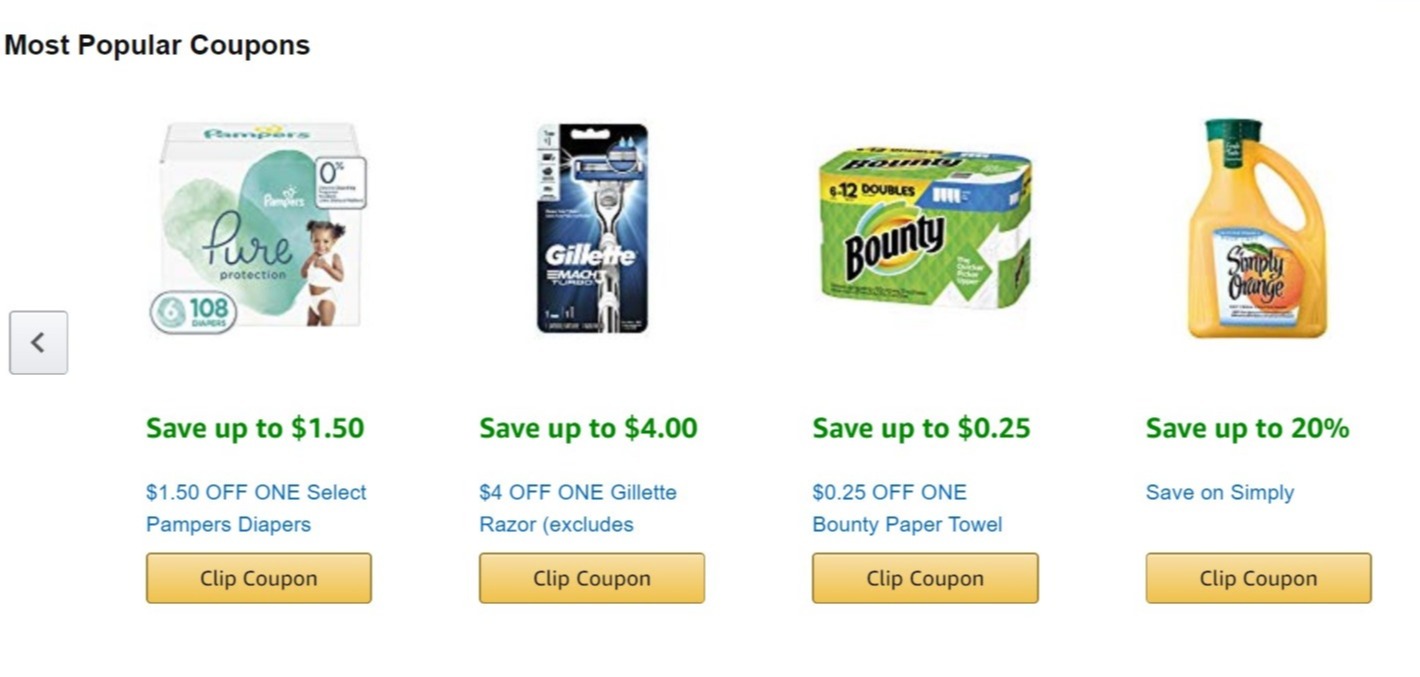 In addition to being redeemable directly on an item listing, coupons from sellers with the best performance appear categorically on Amazon's main coupons page, where customers can "clip" and save the discounts that are the most compelling to them. 
How much does it cost to use coupons?
Amazon charges sellers $.60 for every coupon that's redeemed. When pricing an item, you'll want to factor in that charge to find a discount amount that makes sense. 
Why use Amazon coupons? 
Paying for coupons through Amazon is essentially like paying for advertising for an item, because it increases the likelihood that a customer will purchase something from your store. The more customers redeem your coupons, the more sales you'll make, and the more sales you make, the higher you'll climb in Amazon's rankings, which will lead to even more sales. 
How can you enable coupons?
To enable coupons on individual listings, you'll need to go to Seller Central on Amazon, click the Advertising tab, and scroll down the dropdown menu until you find the word "Coupons." From that point, you can search for and add the SKUs or ASINs of the products you want coupons applied to. 
Amazon has two different types of coupons that you can offer as a seller: 
Coupons that give customers a set percentage off of their purchase. 

Coupons that give customers a set dollar amount off of their purchase.
Sellers are allowed to set a discounted price on an item that's between 5-80% off its lowest price. Beyond that, coupons are fairly flexible: you can customize each coupon you make by determining the amount you're discounting, your maximum spending amount, and the date you'd like it to expire.
Once you've enabled a coupon on your account, a button will appear to customers below the listing price of your product, allowing them to claim the discount on that product. For Prime users, that button will be green.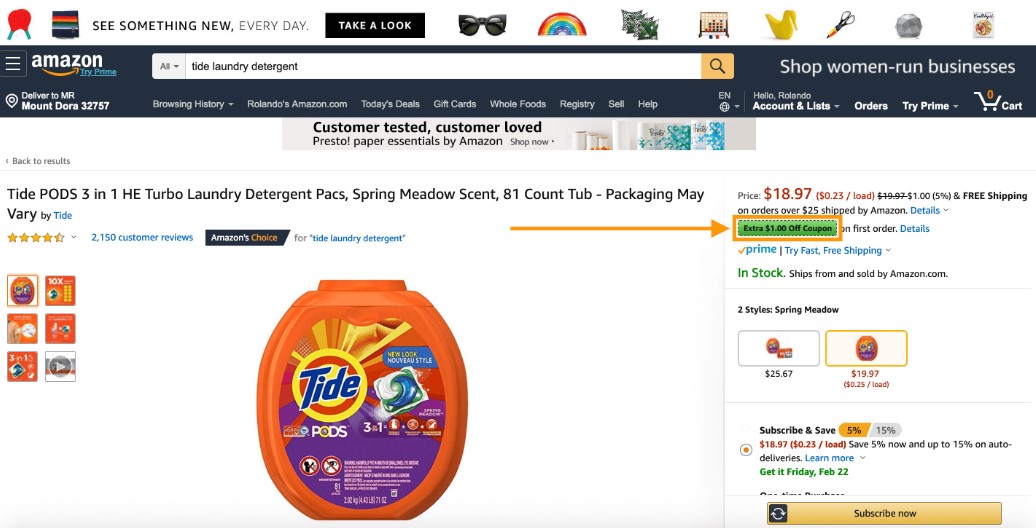 Non-Prime users will see green text below the listing price that directs them to a deal, according to Jungle Scout. Users who find your page through the Amazon Coupons landing page will see coupons highlighted with an orange ribbon. 
How can you maximize your return on coupons? 
Because there are two different kinds of Amazon coupons—the dollar-off coupon and the percentage-off coupon—you'll want to figure out which one increases the likelihood of a customer claiming it.  
The dollar-off coupon is often the most appealing for buyers, says Jungle Scout, especially for items with smaller discounts, because it allows the customer to quickly see how much money they'll be saving without calculating a percentage off of the item's price. 
In contrast, a compelling enough percentage-off discount can drive lots of sales, too. You'll just need to experiment with the two to find out which your customers prefer. 
To learn more ways that you can stand out and increase your sales on Amazon, read more on Pattern.com or talk to one of our experts at 1 (888) 881-7576 or by filling out the form below.
More Resources
20 No-Brainer Tactics for Growing Amazon Sales in 2020
The Ultimate Guide to Amazon SEO
The Experts' Guide to Amazon Advertising Strategy
Defining your Marketplace Strategy for 2021