You know Amazon, but what you may not know is that the online retail giant owns 146 private label brands that operate in dozens of markets on its website, including food and beverage, automotive, clothing, and electronics. According to ScrapeHero, Amazon sells over 7,200 products under its private label brands, and that number continues to increase.
Amazon's brands provide quality products to customers at some of the lowest prices online, but they've become the subject of intense scrutiny and controversy, as well as a big concern for ecommerce executives.
A brief history of Amazon's private label brands 
Amazon introduced its first in-house brand AmazonBasics (which sells everyday household goods) ten years ago. Only in the past two years, however, has the company ramped up its focus on private label creation—in 2017, there were just 30 private label brands in operation on the site.

Some of Amazon's brands are easily recognizable, like Echo or Kindle, but you probably wouldn't recognize most of them just by looking at them. Amazon has listed several of their brands under an "Our Brands" page on their site, and many of their product listings are labeled with "Amazon Brand" in the name or description so it's easy to identify them. That said, details about all of Amazon's private labels are fairly limited, though there are online databases that attempt to identify them. 
Why Amazon's brands concern third-party merchants 
While Amazon claims its private label products make up about 1% of its total sales, its sales in specific categories are growing rapidly. According to Numerator, brands selling in Amazon's core consumer packaged goods (CPG) category--household, grocery, baby, pet, beauty, and health products--saw an 81% growth in the 2017 to 2018 time period.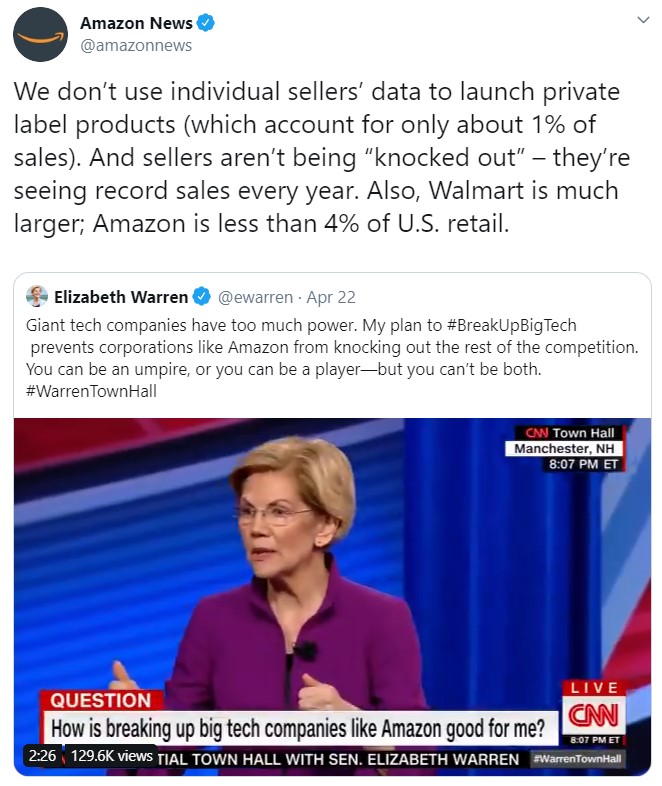 With Amazon's increase in sales has come an increase in seller unease. According to our 2019 marketplace survey we conducted among ecommerce executives, Amazon's private label brands are a top concern—73% of survey respondents say they are concerned with Amazon's private label products competing with their own, and 57% of those indicated that they are very concerned. 
Ecommerce sellers aren't the only ones expressing their apprehensions. Presidential candidate Elizabeth Warren called out Amazon in April 2019 for "tilt[ing] the online marketplace in its own favor" by selling private label brands. By doing this, Warren said, Amazon has the ability to use the data it collects from its third-party sellers to help its own private-label brands succeed and give itself an unfair advantage. 
Recent controversy
Amazon claims that it doesn't use sellers' data to unfairly compete, but the company has been accused in recent months of stealing the product designs of other companies to create "copycat" products under their private label brands.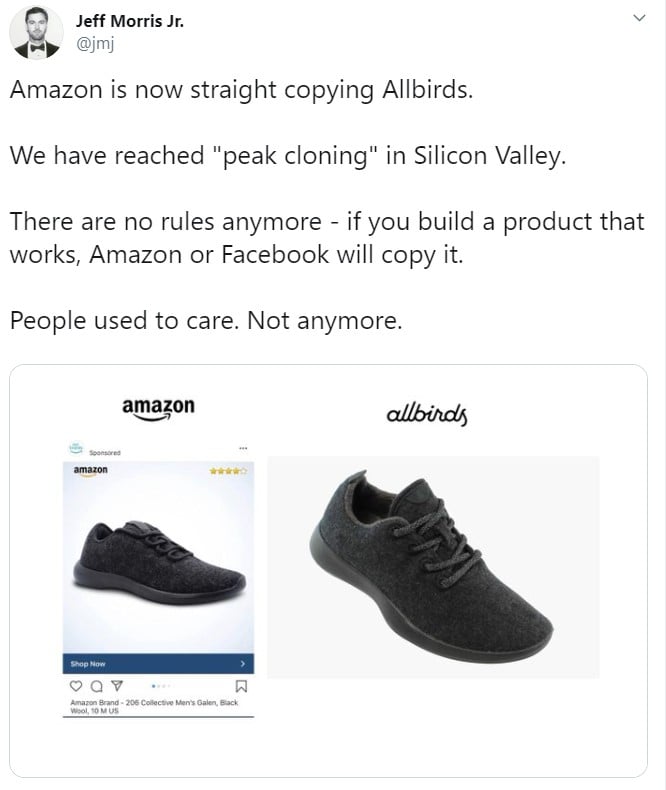 In November 2019, Allbirds co-CEO Joey Zwillinger called out Amazon for selling shoes under its 206 Collective label that look exactly like Allbirds' Wool Runner shoes, though they're made without the same sustainability practices that mark Allbirds products. The shoes are still listed on Amazon today, and they sell for $45, undercutting Allbirds by almost half. 
In July 2019, the European Commission opened an antitrust investigation to determine if Amazon is using sales data to unfairly skew the market in their favor and gain an unfair advantage over third-party sellers. That investigation is ongoing. 
How your brand can compete with private label brands 
As a third-party merchant selling product on Amazon, you may feel intimidated by the company's private label brands. The good news is there are several practices that can help you compete.
Unlike national brands, most of Amazon's brands have had limited exposure on their site. They also don't have the same brand recognition other companies do, which means customers are less likely to trust them over another brand they've heard of or had good experiences with. Sharing your brand's story and nurturing customer trust by providing exceptional customer service and high quality products is how your brand can stand out above other private labels. 
"Loyalty to your brand comes from putting out the best product you can for your customers and providing great customer care," said Pattern Senior Brand Manager Juliana Hacken, who works with the nutritional supplement company Thorne. "For Thorne that means extensive research and development and constant improvement to put out the products that best support the health of their customers. If products don't meet their standard of excellence, they don't sell them. Thorne takes care of its customers."
Exceptional customer service creates a chain reaction that can lead customers to leave positive reviews and push your content to areas on Amazon where it has greater visibility. 
Another way your brand can compete with Amazon's brands is by utilizing SEO practices that drive outside web traffic to your products, as well as providing product listings that are easy to understand and engaging. 
Pattern's ecommerce experts can help you create a strategy to compete against Amazon's private label brands. Contact us through the form below to learn more.
More Resources
20 No-Brainer Tactics For Growing Amazon Sales in 2020
Going Beyond Amazon: How to Break into Other Ecommerce Marketplaces
Increase Amazon Conversions via Effective Content & Storytelling
The Post-Lockdown Future of Ecommerce