In the 21st century, shoppers don't just rely on word-of-mouth recommendations anymore—they lean on the Amazon reviews of their 200 million closest friends.
Amazon, which has more than 200 million unique monthly U.S. visitors, accounted for more than 50% of all U.S. retail sales in 2019. As Amazon continues its rapid growth, consumers are increasingly making purchase decisions with the help of one of the most powerful ecommerce tools: consumer reviews.
Reviews aren't just beneficial for shoppers trying to find the perfect product. They're one of the most effective ways for you to boost your brand's conversion, credibility, and overall ecommerce presence. If you have very few reviews—or if the reviews you do have are negative—you're less likely to convince consumers that your product beats the competition. It's as simple as that.
Despite the importance of product ratings and their prominence in the Amazon shopping experience, consumers and sellers alike have limited knowledge of how Amazon solicits and shapes that information. Let's talk more about the ins and outs of Amazon ratings and what brands can do to use this tool to their advantage.
Do reviews influence product ranking?
Not necessarily. Product ratings are not the sole deciding factor in where items appear in Amazon rankings; sales are still the champion when Amazon's A9 algorithm delivers search results (read more on our analysis about how Amazon reviews influence conversion and sales). Amazon happily indicates "Best Seller" and "Amazon's Choice" next to products, but those only appear on two results for any given search. However, every product gets a boost from its review summary and star rating right in the results page:
It's also worth noting that keywords that consumers use in reviews can help your product fare better in search results, and according to Search Engine Land, Amazon rewards brands with great customer service that respond quickly to reviews and questions.
While reviews may not be the most important factor in Amazon rankings, they greatly influence conversion. 22% of shoppers won't look anywhere else once they've identified an Amazon product they want to buy, and reviews are a major push when it comes to purchase decisions. Research shows that 84% of shoppers trust online reviews as much as a personal recommendation, and 91% of shoppers occasionally or regularly read online reviews.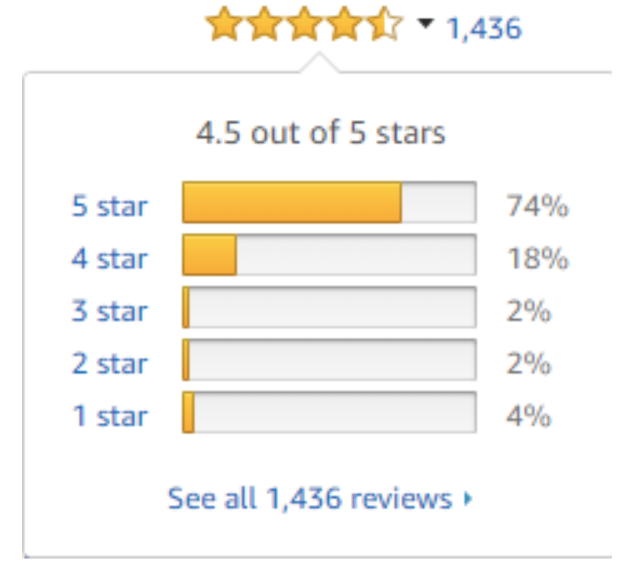 How do shoppers use reviews?
Awareness > Consideration > Purchase
Amazon strategically places reviews in higher location priority before the product specifications and detail bullets. Customer feedback appears before your own marketing team's carefully crafted messaging and even gets its own rollover graphic right on the search page.
While the A9 search algorithm presents consumers with their options, reviews are what push consumers from consideration to purchase. Approximately 95% of consumers read reviews before making a purchase, and a whopping 68% of consumers form an opinion on a product after only reading between 1 and 6 online reviews. With so many reviews available and so few being consumed before consumers make a purchase decision, it's easy to see why you should be scrambling to gather positive feedback on Amazon.
How does Amazon build those review summaries?
Amazon is very secretive about how it arrives at an item's star rating summary. Reviews and ratings are weighted to scale, but star ratings don't necessarily correlate with Best Seller or item rank status. We do know that Amazon's models factor in how recently a rating or review was written and whether the purchase was verified.
Amazon has migrated through several programs to foster unbiased, trustworthy reviews and currently does so through Amazon Vine, an invite-only program that invites trusted Amazon reviewers to review new products.
Amazon Vine reviewers, called Vine Voices, are invited to participate in the program based on the helpfulness of their reviews and their expertise in specific categories. Vendors participating in the program pay for the products, and reviewers give their honest opinion in return.
While a strong review can lift a product's conversion, it's a violation of Amazon's customer review policy for sellers to incentivize customers into giving product reviews outside of Amazon Vine. Of course, fake reviews and black hat tactics still are common on the marketplace, as we discussed with Buzzfeed News and the New York Times.
More reviews, more problems?
A true black market has materialized through Facebook, Reddit, and other platforms for brands and merchants to game the conversion funnel with fake reviews, despite these reviews being in direct opposition to Amazon's selling policies. Although Amazon claimed in 2018 that more than 99% of consumer reviews are legitimate, some researchers and consumers have come to vastly different conclusions.
In 2018, The Washington Post found some product categories in which up to 67% of reviews were fraudulent and artificially boosting item ratings. Even though some sellers may argue that they're not artificially boosting ratings if they don't ask for specifically positive reviews, ReviewMeta found that incentivized reviewers are almost 4 times less likely to leave a critical product review.
More than two years later, it appears the problem is as relevant as ever. In August 2020, Financial Times found that Facebook groups that solicit incentivized Amazon reviews are thriving, with some groups posting thousands of offers a day. After the initial article was posted, Amazon deleted 20,000 product reviews on Amazon UK.
Amazon, which is proactively working to change this perception, stopped allowing paid reviews in 2016 and has since cracked down on platforms like Amazon Review Trader. Services like FakeSpot and ReviewMeta provide consumers tools to research products and weed out suspected fake reviews.
Amazon has said it has a zero-tolerance policy toward product review policy violations, and brands that offer incentives like free products or discounts in exchange for reviews are subject to punishments including permanent delisting from Amazon, legal action, and the withdrawal of selling privileges. Long story short, it's a much safer bet to focus on improving your legitimate product reviews.
What's the deal with ratings?
In fall 2019, Amazon changed its review system verbiage from "reviews" to "ratings" and started letting shoppers leave a product rating out of 5 stars in one click. Previously, customers who wanted to leave a star rating also had to leave a written review.
This change, which made it easier for shoppers to leave their impressions of a product, has resulted in a higher quantity of ratings and higher star ratings for products. The new system can be positive for brands since it eliminates some of the negative bias that often accompanies online reviews, according to Marketplace Pulse, but it also makes it harder to verify which reviews are trustworthy.
Vox suggests that Amazon's move to swap reviews with ratings makes it easier for new Amazon sellers to gain momentum and that increased feedback from legitimate customers will give fake reviews less power. In fact, customer ratings aren't even considered in an item's overall star rating unless the rating has Amazon Verified Purchase status.
Even if customers choose to leave just a quick star rating at first, they'll always have the option to add more text, photos, or videos to create a more detailed review.
How should you handle negative reviews?
After reading all about how positive reviews lead to conversion, you might be panicking about every negative review. But take a deep breath—research actually shows that occasional negative reviews can be good, according to the Spiegel Research Center, as a brand seems less credible if it has perfect reviews.
That doesn't mean you shouldn't respond to negative reviews. In fact, responding to these reviews can be a great way to build credibility and show consumers you're available and willing to fix potential problems. You can read more about handling negative reviews here, but apologizing, fixing the problem, and, in some cases, removing the review are all good steps to take.
So what's next?
Amazon is continuing to improve its review processes and encourages brands to interact with product feedback. Shoppers appreciate this interaction and are becoming increasingly savvier when it comes to detecting trustworthy reviews. Brands should be ready to partner with companies like Pattern to surpass shoppers' expectations and keep the authentic positive reviews flowing.
Need help managing your product's Amazon reviews? Pattern's customer service team has an average response time of 2 hours to our brand's customers. We're also a top 5 seller based on customer ratings (iServe). Fill out the form below and someone will be in touch shortly.
More Resources
Amazon UAE Home & Kitchen Report 2021
Amazon UAE Beauty Report 2021
Influencer Marketing Report
Marketplace Internationalisation Checklist