If you're hoping to improve sales, increase trust, and grow your brand recognition, an Amazon store is a must. These stores are DIY solutions that help you provide a better shopping experience and drive engagement.
One of the best things about using the Amazon Webstore platform? You can still continue to sell from the Amazon Marketplace as well.
When setting up your store you can choose from a variety of templates, all with different layouts. These layouts can be customized to showcase your products. Stores can include photos, videos, and copy, along with social sharing buttons and promotional extensions.
Here are just a few of the ways Amazon stores can benefit your brand:
-Increase your sales volume
-Provide a better experience for mobile shoppers
-Promote new products to current customers
-Get your brand and products in front of a new audience
-Boost your organic ranking on Amazon
-Attract attention with creative designs
You can create your store in just a few minutes and stores are usually live within 72 hours. Creating your store is simple and easy, even if you're not particularly experienced with website design.
If you're already a seller on the Amazon Marketplace, you won't need to worry about creating a new account. If you're not, you'll need to register for Amazon Webstore. As soon as you're registered, you can begin preparing your product data, photos, and videos. Make sure you have your product logo, descriptions, and UPC codes.
Next, you'll need to organize your items into product categories so buyers can easily find what they're looking for. Once this is completed, you can go ahead and choose your theme, which including the basic colors and layouts.
Right now, brands can choose from three different templates: Product Grid, Marquee, and Showcase.
Product grid
This is a simple way to showcase a selection of products. This particular Amazon Store template displays products in a grid format. List of products can be selected manually or based on search keywords. On desktop each row will display four and on mobile, two products in a row will be displayed. Each product in the grid will show the product name, product image, price, star rating, and shopping actions such as the "Add to cart" button. All products in the grid will link to their corresponding product detail pages. Puma does a great job with their shoes below.
Marquee
This is another dynamic template for your brand destination page on Amazon. Along with your product display, you can use additional space for images and copy like quotes from happy customers or product descriptions. Check out how Maybelline has used this space: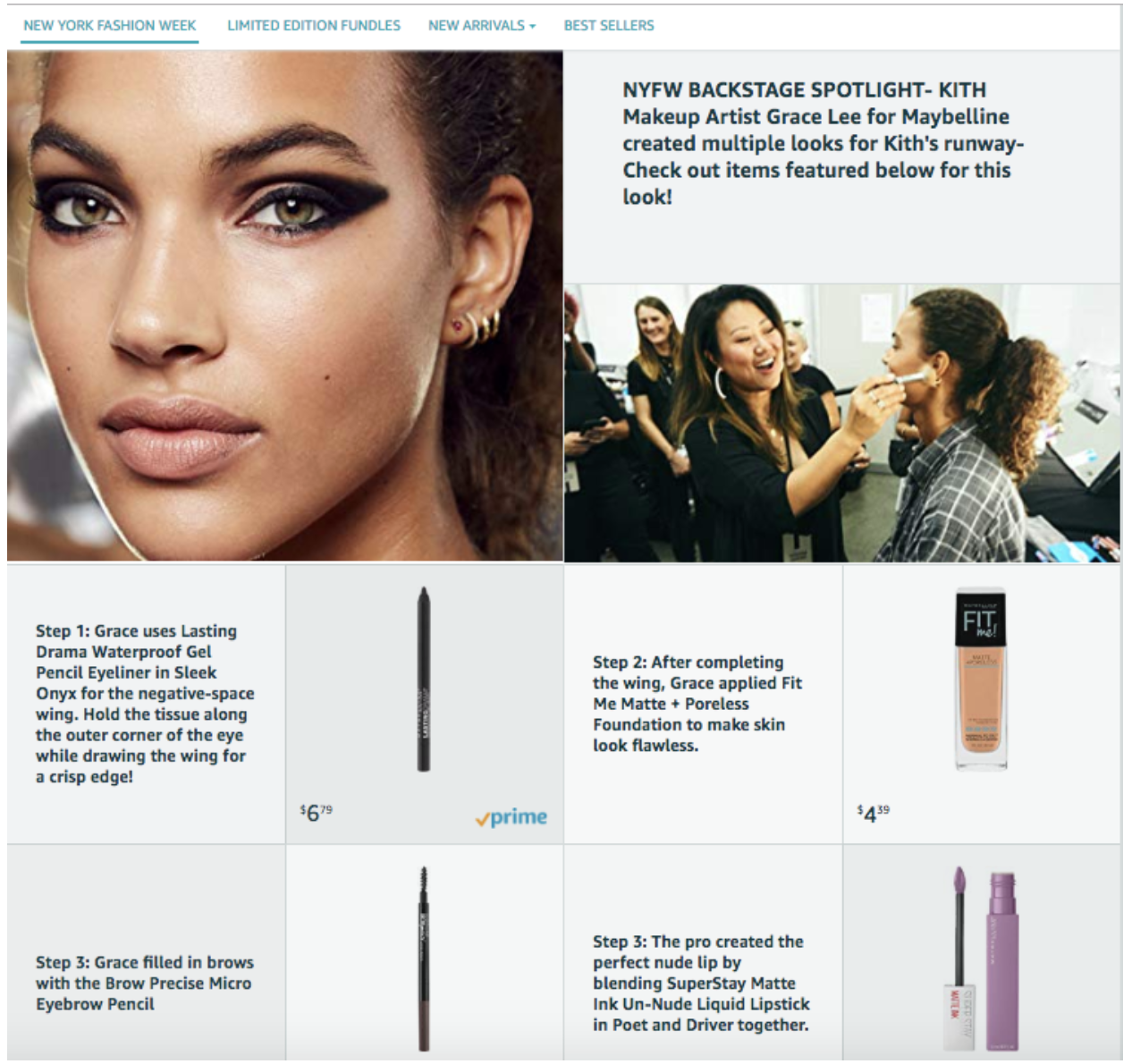 Showcase
This layout is a good option if you have a lot of products, with plenty of space to feature a large selection of options for customers. This template offers a more dynamic and flexible experience for brands and customers allowing for more content. Coastal Blue has used this template effectively:
Once you've chosen your layout, you can create your domain. You'll find this link under the 'Getting Started with Amazon Webstore' header in your Seller Central. This URL can be shared on social media and your website. You can also use this within Amazon, and can link your search ads to your store.
Now you're ready to promote your store. Once your store is up and running, Amazon has a number of reporting tools that allow you to measure and optimize based on your visitors, views, and more.
An Amazon store is an excellent way to connect with customers and gain a competitive edge. With more than 52 sellers joining the Amazon Marketplace everyday, brands hoping to gain market share need to differentiate themselves. And an Amazon store is a great way to do this.
Want to learn more about selling on Amazon? Fill out the form below and we'll get back to you ASAP.
More Resources
20 No-Brainer Tactics For Growing Amazon Sales in 2021
Top Challenges & Trends for Navigating Amazon & Other Marketplaces
Amazon UAE Home & Kitchen Report 2021
Amazon UAE Beauty Report 2021