MercadoLibre is Latin America's ecommerce powerhouse. Ecommerce growth is accelerating in Latin America, with Mexico recently experiencing 35% growth in ecommerce sales, new laws facilitating the import of certain products into Brazil, and 90% of connected Argentine adults making online purchases last year. 
MercadoLibre is also present in Latin America's major marketplaces, with 18 country-specific marketplaces total. PagBrasil shows us below that Brazil, Mexico, and Argentina are the major markets in Latin America.
MercadoLibre country-specific marketplaces:
Argentina
Bolivia
Brasil
Chile
Colombia
Costa Rica
Dominicana
Ecuador
Guatemala
Honduras
México
Nicaragua
Panamá
Paraguay
Perú
Salvador
Uruguay
Venezuela
MercadoLibre's Cross Border Trade (CBT) program allows sellers to list in all of these countries from a single platform. We sat down with MercadoLibre's Mariano Migues, Cross Border Trade Supervisor, and Teo Zavalia Gahan, Cross Border Trade Senior Analyst, to discuss why brands should be selling on MercadoLibre. 
Market leader
MercadoLibre is the market leader in most of Latin America. Our own research shows that based on how many visitors the leading ecommerce websites receive in those countries, MercadoLibre is by far the dominant force.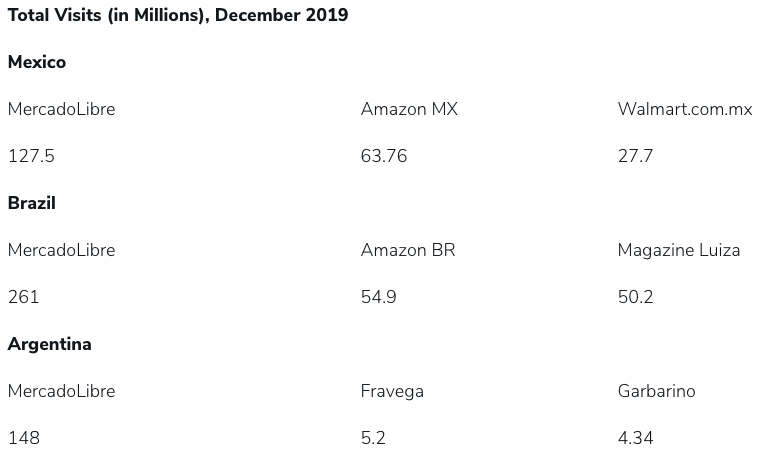 (Note that many shoppers in Argentina use eBay and Amazon U.S. sites. Only domestic marketplaces were included here.)
Great customer experience
MercadoLibre excels in providing a simple and streamlined customer experience that seeks to eliminate barriers in the path to purchase.
Payments
MercadoLibre customers can pay in their own currency regardless of the origin of the seller. Sellers then receive payment in their own currency. The Mercado Pagos program gives buyers the option to split the purchase price into installments, a practice very common in Latin America. 
Shipping
Customers can expect free shipping with shipping times of 1-3 days for products sold out of the Mercado Envios "FULL" Warehouse. According to Gahan, MercadoLibre promotes listings being sold out of their fulfillment centers in search strongly incentivizes sellers to use this fulfillment method because it does create such a superior customer experience. Products will also get a badge that sets them apart as being part of the "FULL" program, which inspires and improves consumer trust. 
The effects of a "badge" were highlighted in a 2018 study by Profitero on the effect of Amazon badges. Profitero demonstrated that those badges can increase traffic by 17-45% and conversion by 3-25%.  
How to sell cross-border on MercadoLibre
MercadoLibre CBT is an invite-only program. Migues stated that they are out searching for reputable, high-quality brands and sellers that can improve the customer experience on MercadoLibre. 
Pattern can help you with your Latin American expansion by filling out the form below.
More Resources
Going Beyond Amazon: How to Break into Other Ecommerce Marketplaces
Navigating a Successful 3P Presence on Amazon & Beyond