Your product pages are like the window displays of your Amazon store: if they don't look organized and appealing, customers probably won't bite. The Journal of Marketing confirms that well-orchestrated Amazon product pages are key in boosting sales, so it's important for your business that they're optimized.
But where do you begin?
Identify what types of products you're selling and create visual experiences that match them.
According to research conducted by the Harvard Business Review, online customer experiences have four dimensions: informative, entertaining, social, and sensory. To optimize your pages, you'll want to make sure you're providing the most fitting user experience for each type of product you sell. 
Search product page
One type of product page you can optimize across your Amazon site is a "search product" page. Search products are products customers shop for by evaluating factual information about them (i.e. vitamin supplements, electronics). Customers looking for a "search product" are more likely to purchase it when they have an informative experience on your page, therefore it's extremely beneficial to provide charts and specs on these product pages that teach customers what your product can do. A bulleted list that includes the most important attributes of the product is another visually helpful thing you should include on search product pages. 
Check out this example of a search product page Pattern made for Paslode.
Not only are the images high quality, but they also inform about the product, showing the customer exactly how heavy and durable the product is.
Social/sensory experience
Another kind of experience you can offer through some of your product pages is a social/sensory experience. Social/sensory experiences are most effective for products like clothing. Customers want to know how the clothing they're purchasing will look and feel, so maximizing the descriptive elements of your product page to give them as close an idea as possible is a pivotal way to increase sales. You'll want to include high definition images customers can zoom in on and image rich descriptions that give buyers an idea of how the items will feel. One way you can really optimize your pages for sensory/social items is by including models who are using them and/or videos featuring them. 
Check out our example of a social/sensory experience with Pandora jewelry: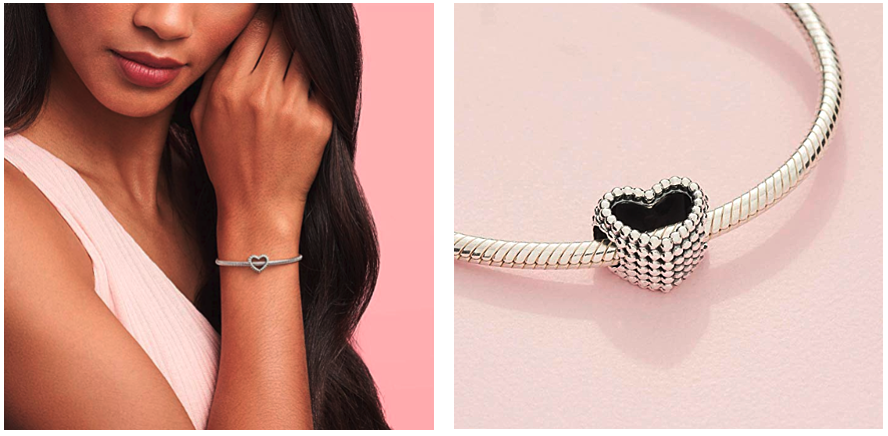 The images are high definition, show how the item can be used, and also give depth to the product.
According to the Harvard Business Review, making your copy as engaging and personable as possible on experience type items like clothing, games, or food can really help motivate customers to buy them. As you create product listings, ask yourself if your customer would rather be entertained or informed by each page and then craft them accordingly. 
Use basic SEO practices in your product title and description. 
One of the most important things to do on an Amazon product page, not only to drive traffic to your site but to ensure customers know exactly what they're getting themselves into so they're more likely to buy, is to make sure your product title and description include the right keywords. Buyers will frequently steer clear of listings that don't have a clear product title or clear descriptions, so it's important to make the first thing they see on your page as clean and clear as possible. For more ideas on strengthening the SEO on your product pages, click here. 
Make your brand more trustworthy. 
One thing customers want to know as they're shopping on Amazon is that they're purchasing their products from reliable vendors. While the best general practice is to improve your seller performance so your reviews and rankings go up, there are things you can do to make individual product pages more trustworthy as well. Several have been mentioned previously. 
Use high-res images of your products and ideally more than one image. 

Provide customers with quick and descriptive details in your copy. 

Include charts that compare your product with similar products that fit the same criteria so customers know what makes yours stand out. 

Highlight customer star ratings.
These are just a few of the things you can do to optimize your product pages on Amazon and thereby increase sales. 
For more information on how you can boost your ecommerce sales by optimizing product pages, fill out the form below or contact us at +1 (888) 881-7576.
More Resources
The Ultimate Guide to Amazon SEO
20 No-Brainer Tactics for Growing Amazon Sales in 2020
Influencer Marketing Report
Marketplace Internationalisation Checklist