Online shopping has replaced the personal, human element with a digital conversion funnel. As Amazon approached four percent of net retail sales in 2017 and captured 44 percent of ecommerce revenue, consumers are increasingly making purchase decisions with the best tool available: Amazon reviews.
Once shoppers leave Amazon's home page they never see an item without a star rating and review count clearly displayed next to the name, yet consumers have very little knowledge on how Amazon solicits and shapes that information.
##
Do reviews influence product ranking?
Not necessarily. Product reviews are not the sole deciding factor in where items appear in Amazon rankings; sales are still the champion when Amazon's A9 algorithm is delivering search results. Amazon happily indicates 'Best Seller' and 'Amazon's Choice' next to products but those only appear on two results! Every product gets a boost from its review summary right in the results page:
The real answer is that reviews are designed to influence conversion; 22 percent of shoppers won't look anywhere else once they've identified an Amazon product they want to buy and reviews are the real deal when it comes to this decision. Research shows that 84 percent of shoppers trust online reviews as much as a personal recommendation and 91% of shoppers occasionally or regularly read online reviews.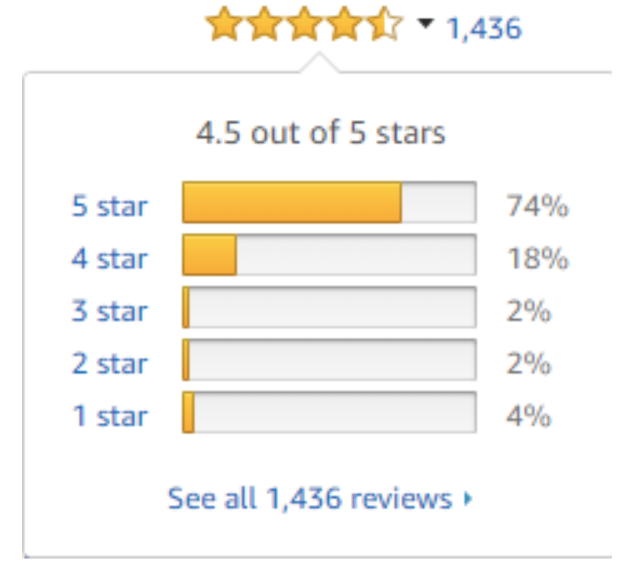 ##
How do shoppers use reviews?
Awareness  > Consideration > Purchase
Amazon strategically place reviews in higher location priority before the product specifications or detail bullets. Customer feedback appears before your own marketing team's carefully crafted messaging and even gets its own rollover graphic right in the search page!
A9 delivers awareness when consumers are searching; it's reviews that push consumers from consideration to purchase. Approximately 70 percent of consumers read reviews before making a purchase and a whopping 68 percent of those shoppers form an opinion on a product after reading between one and six online reviews. With so many reviews available and so few being consumed it's easy to see why companies are scrambling to gather positive feedback on Amazon.
##
How does Amazon build those review summaries?
Amazon is very secretive about how it arrives at an item's star rating summary. Reviews are weighted to scale but star ratings do not necessarily correlate with Best Seller or item rank status. Amazon has migrated through several programs to encourage purchasers to pull reviews together and is currently working with Amazon Vine.
Vine encourages actual purchasers to write reviews and share responses with potential buyers. Their star rating summary takes into account whether consumers rate reviews as helpful and allows verified purchasers on the Vine platform to be displayed more prominently. A strong review can lift a product's conversion but Amazon does not allow you to buy reviews or trade product for positive ratings.
##
More reviews, more problems?
A true black market has materialized through Facebook, Reddit, and other platforms for brands and merchants to game the conversion funnel with Amazon fake reviews. Amazon has stated that more than 99% of consumer reviews are legitimate but researchers and consumers are learning too. The Washington Post found product categories where up to 67% of reviews were fraudulent and may have artificially boosted items' score on the infamous five star scale. Services like FakeSpot and ReviewMeta provide consumer tools to research products and weed out suspected fake reviews.
Amazon is working to proactively change this perception and has banned paid reviews on its platform. Amazon has begun to crack down on receiving free product in exchange for reviews and platforms like  Amazon Review Trader, banning practices that encourage the pay-for-positive ratings.
##
So what's next?
Amazon is continuing to improve review processes and encourages brands to interact with product feedback. Shoppers appreciate this interaction and are increasingly becoming more savvy. With almost three million Amazon US products reviewed through ReviewMeta brands should be ready to partner with companies like iServe to surpass shoppers' expectations and keep the positive reviews flowing!
Interested in learning more about customer reviews or how you can improve your Amazon reviews? Fill out the form below and someone will be in touch shortly.
More Resources
Tmall Trading Guide
Amazon Australia Report 2019
Consumer Product Subscription Models
Global Online Customer Report 2019