For sellers, Amazon's marketplace is more crowded than ever before. This is making it increasingly difficult to stand out from competitors. To increase brand awareness and sales, businesses use killer copy, descriptive titles, striking images, and listing optimization.
What is Enhanced Brand Content on Amazon?
For sellers and brands alike, Amazon's marketplace has become more crowded than ever. This is making it increasingly difficult to stand out from competitors. To increase brand awareness and sales, businesses use killer copy, descriptive titles, striking images, and listing optimization.
Sometimes, however, that's not quite enough. Luckily, Amazon has a number of features that can help you convert those potential customers who are still sitting on the fence.
One of these features is Enhanced Brand Content (EBC).Enhanced Brand Content, or EBC, is the third-party seller version of Amazon's A+ content feature that's available in vendor central. This feature allows you to modify the description area of your product listing with visually-rich content to tell your brand's story. As long as your products are registered in the Amazon Brand Registry 2.0, you can use EBC.
The best part? EBC is currently free. There are rumors that this will soon be changing, though, so it's best to incorporate this feature into your listings as soon as possible.
Here are are a few reasons why you may want to try EBC:
Reduce your bounce rate
Your potential customers know there are thousands of products on Amazon that fit their particular needs at any given moment. When they find a product they like, they'll often use it as a reference point and click to competitor listings to compare features and pricing.
EBC can help you reduce your bounce rate by increasing engagement with eye-catching pictures and compelling copy.
Reinforce brand equity
EBC provides a way to reinforce the brand loyalty you've already developed with your customer base. Historically, a main challenge with Amazon has been the lack of branding opportunities available to more-established brands, which has leveled the merchandising playing field and allowed private-label sellers/products to flourish.
EBC allows brands to bridge this gap and remind customers what sets them apart in a way that's not possible through text-only bullets and descriptions.
Overcome objections
When customers are comparing products on Amazon, they're looking for reasons not to buy. EBC gives you the chance to overcome the objections your prospects may have by providing more detail and imagery--making it more likely that they'll convert.
Amazon allows you to answer customer questions on each product listing, something I recommend all brands participate in. One way to use EBC effectively is to look at the types of questions your customers are asking and address any recurring themes in your EBC.
Attract attention
As mentioned, EBC is an excellent way to differentiate your product from similar, competing products. Consider the two lotion examples below.
With Enhanced Brand Content: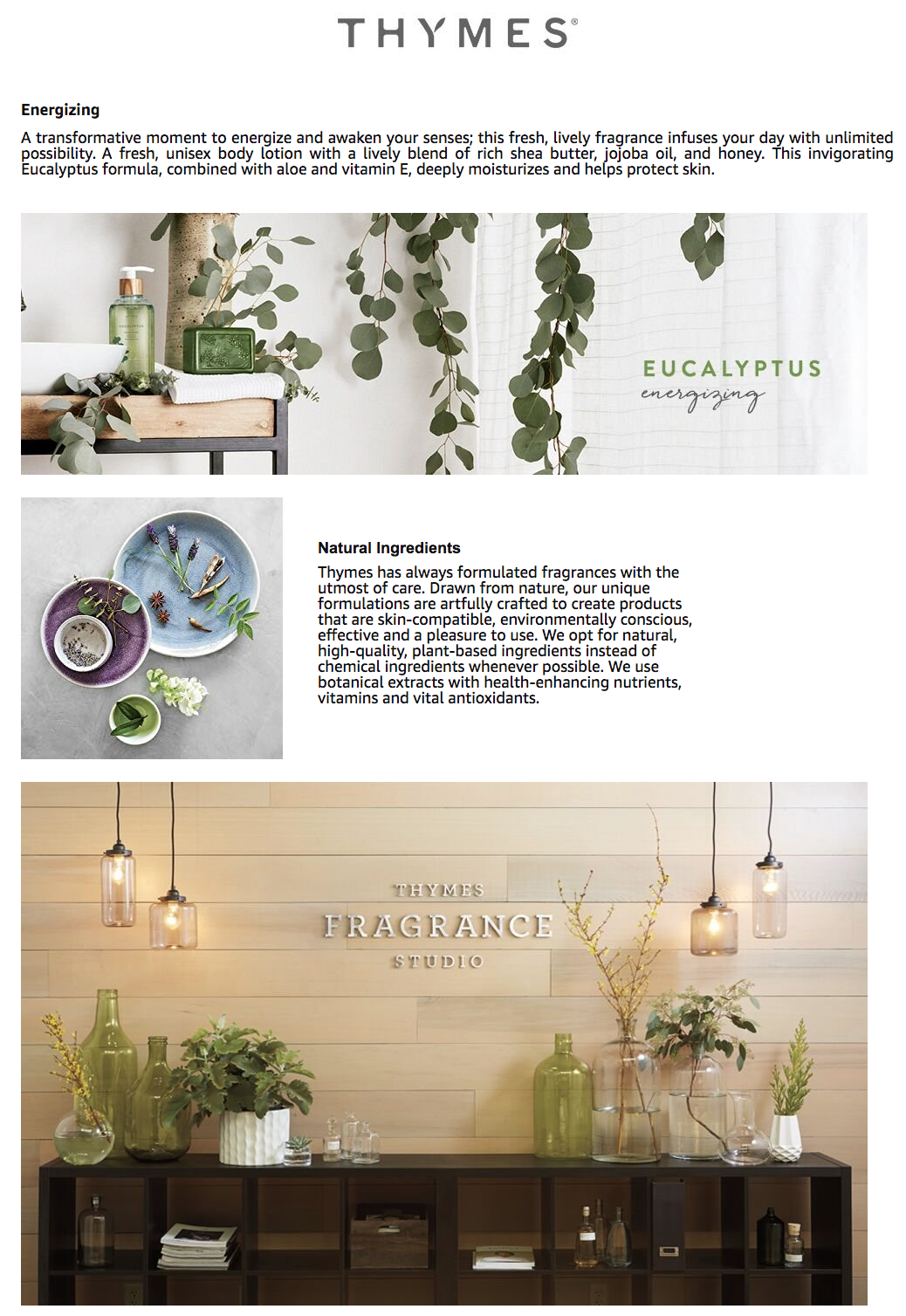 Without Enhanced Brand Content:

Which lotion do you think customers are more likely to buy?
Use mobile optimization
This is arguably one of the best benefits of EBC. When buyers are searching Amazon on a mobile device, they only see the first 200 words of each product's description...not even your finely-crafted bullet points. They then have to click the section and open a new page to see more details.
If you're using EBC, potential customers can see everything, including the pictures, title, and description- without clicking or opening new pages. This is increasingly becoming a bigger deal, since47% of Amazon customers are now using their mobile devices to shop.
Not only are customers increasingly using their mobile on Amazon, but they're also driven by convenience. As with everything on the internet, the faster you can get your product in front of a potential customer (with the least amount of clicks), the better your performance will be.
As you can see, Enhanced Brand Content (EBC) is an excellent way to make your products stand out regardless of category. Since it's currently free, there are no downsides to giving it a try, but I'm confident these benefits will make it well worth your time.
If you'd like to learn more about improving your product listings with EBC, we'd love to help. Fill out the form below and we will get in touch shortly.
More Resources
20 No-Brainer Tactics For Growing Amazon Sales in 2020
The Experts' Guide to Amazon Advertising Strategy
Tmall Trading Guide
Amazon Australia Report 2019